Fashion week is a grandiose affair that ushers in crowds and excitement with displays of luxury, extravagance, and opulence.  This complex and star-studded affair brings together fashion designers, models, celebrities, influencers, journalists, and potential customers keen on witnessing the glamor of beautiful and artistic fashion.
Fashion week is held twice a year in February and September showcasing Fall/Winter and Spring/Summer styles respectively.  Four major fashion shows are held annually in New York, London, Milan, and Paris.  These lavish shows support a network of other businesses and industries within their local economies.  In fact, the annual economic benefit of New York Fashion Week alone is at least double that of the Super Bowl (FHCM, n.d.) (Emery, 2022). 
Annual Economic Benefit of Each Fashion Week in USD:
New York Fashion Week (NYFW) – $887 million/year
London Fashion Week (LFW)  – $365 million/year
Milan Fashion Week (MFW) – $57 million/year
Paris Fashion Week (PFW) – $1.36 billion/year
(FHCM, n.d.) (CFDA, 2016) (Hendriksz, 2016)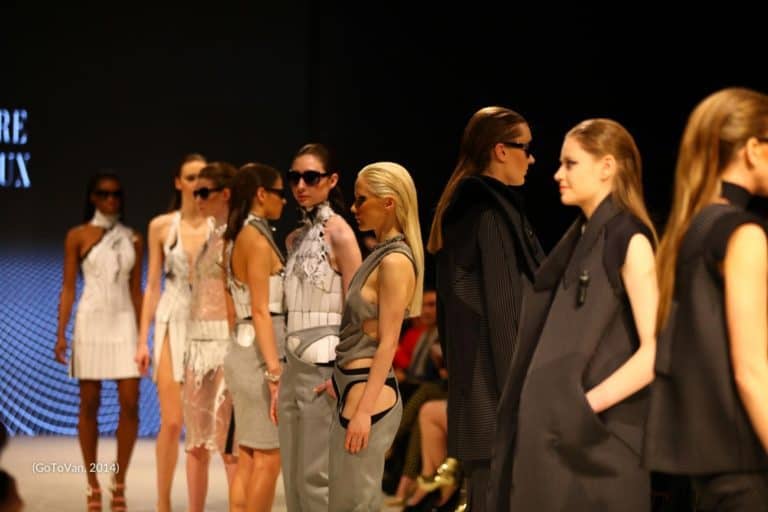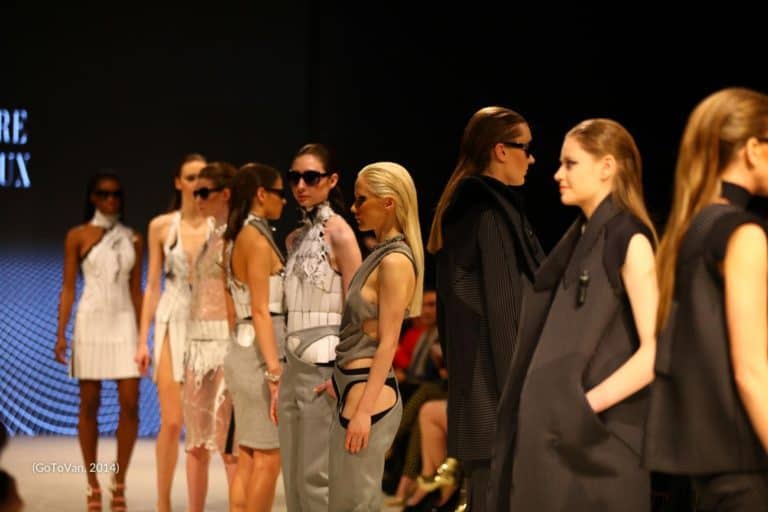 In the 1800s Paris held "fashion showings", or défilés de mode, where clothing was hung on stiff mannequins (Li, 2021).
It wasn't until the mid-late 1800s that Parisian designer Charles Frederick Worth, hailed the father of Haute Couture, decided to present his fashions on women (Bang, 2019). This led to "fashion parades" in the 1900s, and then twice a year showings in 1910 (Bang, 2019).
During World War II and the Nazi occupation in France, America was cut off from Parisian fashions (Stanton, n.d.).  As a result, Eleanor Lambert sought to showcase American designs through what was dubbed "New York Press Week" in 1943 (Stanton, n.d.).  This would later be officially renamed to New York Fashion week in 1993 (FashionWeekOnline, n.d.).  Next followed Milan Fashion week in 1958, Paris Fashion Week in 1973, and London Fashion Week in 1984 (Stanton, n.d.).
Each Fashion Week is managed by local fashion councils:
NYFW – Council of Fashion Designers of America
MFW – National Chamber for Italian Fashion (Camera Nazionale della Moda Italiana)
PFW – French Fashion Federation (Fédération Française de la Couture)
LFW – British Fashion Council
(FashionWeekOnline, n.d.)
The common purpose across all fashion weeks remains connecting designers and consumers through wonderfully artistic showcases.  These events also serve the fashion community as a vehicle to express their creativity, gain inspiration and make connections.
Fashion week has continued annually with its first major interruption occurring during the devasting events of September 11, 2001, which resulted in the cancellation of New York Fashion Week that year (Harris, 2016).  Most recently, the impacts of the covid-19 global pandemic resulted in many fashion weeks opting for online or virtual shows (France24, 2022).
Fashion weeks of today have changed drastically in scale and since its inception. Increasing awareness of climate change, sustainability, and inclusivity are causing shifts in delivery and consumer reception.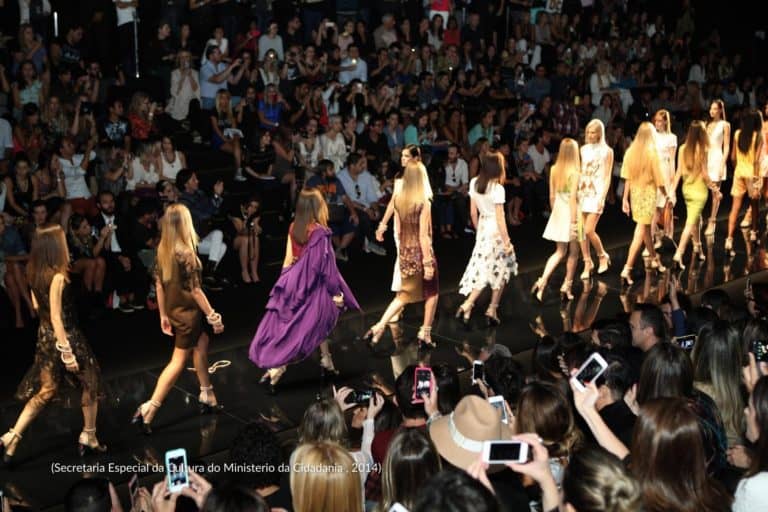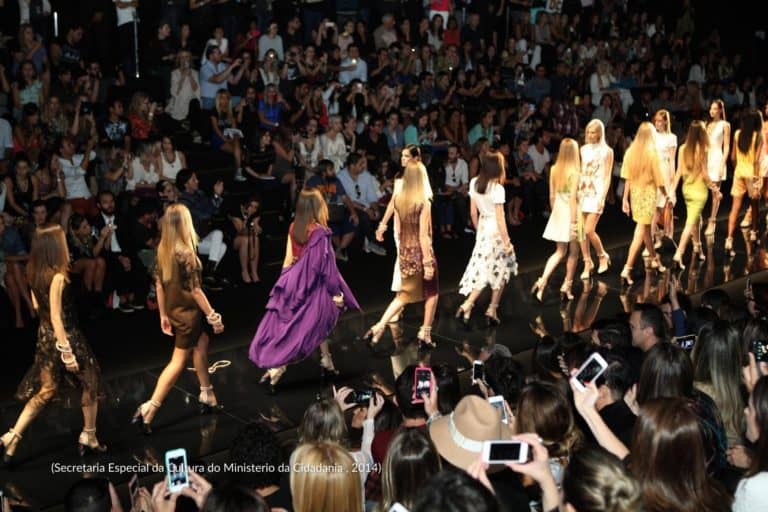 The evolution of fashion week
Accessibility of fashion shows
From 1931 to 1947 photos weren't allowed at fashion shows, for fear that designs might be copied by other designers (Williams, 2021).  Only sketches could be published of the designs (Williams, 2021).  This changed in 1947 with Christian Dior allowing photographers to document his first collection, "The New Look" (Blanchard, 2018).
Attendance has also expanded from buyers, customers and the press to influencers, bloggers and fans.  With the growth of the internet, designers have been taking advantage of this medium, with Helmut Lang becoming the first designer to present his Fall/Winter collection online in 1998 (Blanchard, 2018).  Later in 2010, Alexander McQueen became the first to live-stream his show (Blanchard, 2018).
Brands are also exploring new technologies including augmented reality and the metaverse.  At New York Fashion Week 2022 Jonathan Simkhai worked with the metaverse developer Everyrealm to create a "Metaverse Fashion Week" event (Adegeest, 2022).  Digital Fashion Week New York is a relatively new event that is also taking off.  During the most recent event (Feb 10 – 13, 2022), Modern Mirror, a key sponsor of the event featured 3D scanning technology to enable people to create lifelike avatars in the metaverse (Malget, 2022).  At New York Fashion Week in February 2022, designer Maisie Schloss took advantage of augmented reality featuring 7-foot tall holographic models for her collection (Palumbo, 2022).  Technology is rapidly enabling designers to make their most elaborate visions reality:
Designers
Designers that show at one of the four major fashion weeks must be fairly established.  Aside from being a member of their country's fashion council, they also need access to significant capital necessary to host a show.  Considering costs for a venue, styling, production, PR, and models to name a few, total expenditures can start around $200,000 for a reasonably presentable show (Mau, 2014).  Costs can grow significantly from there depending on the size of the venue and production as evidenced by Marc Jacobs' 2011 show costing at least $1,000,000 (Mau, 2014).  These expenditures can make presenting at one of the big four fashion shows inaccessible to emerging and smaller brands.
Diversity
Upon the inception of fashion week, little attention was paid to the diversity or representation of models.  There was typically little diversity in race, with models reflecting similar looks and body types. 
With fashion reaching a wider audience many brands are embracing inclusivity.  Statistics gathered from Spring 2022 New York Fashion Week (NYFW) reveals that 55.5% were models of color, compared to 20.9% in Spring 2015 (Cichowski, 2021).  The most recent NYFW also featured 48 plus-sized models compared to just 6 the previous year (Cichowski, 2021).  There were also 30 transgender/non-binary models as opposed to 6 in the fall 2021 NYFW (Cichowski, 2021).  More emphasis needs to be paid to age, as the Fall 2020 show only featured 10 over-50 models as opposed to 15 at the previous show.
More work still needs to be done, as evidenced by Bohn Jsell's experience at 2021 NYFW.  Although they made an effort to cast curvy Black or Latinx models with textured hair, they weren't able to recruit as many models as they wanted (Butler-Young, 2021).  The designers were also left with styling the models themselves, as they weren't able to get Black makeup artists and hairstylists (Butler-Young, 2021).
To highlight the importance of diversity, Amsterdam started hosting "Diversity Fashion Week" in 2018.  They focus on showcasing various religions, languages, races, shapes and sizes.
Opulence in shows
Fashion shows have evolved beyond the quaint and sophisticated fashion parades typically held within department stores or boutiques.  Designers are under pressure to increase the fanfare of their shows making them more remarkable and attention-worthy (Williams, 2021).
Three spectacular and noteworthy shows include the following:
– For the Fall/Winter 2012 Louis Vuitton collection, Marc Jacobs placed a working steam train in the middle of the runway: https://www.youtube.com/watch?v=COUxD5JLRrw
– In one of his most extravagant shows, Karl Lagerfeld constructed a life-sized Chanel-branded rocket ship for the Fall/Winter 2017 collection: https://www.youtube.com/watch?v=C89jkwr_wXk
– Most recently, Kim Niklas Jones the creative director of Dior Homme reconstructed the Pont Alexandre III bridge for the Fall/Winter 2022 collection. This included gilt bronze horse statues and staff-wielding nymphs, contrasted by a beautifully painted winter Parisian landscape (Adamson, 2022): https://www.youtube.com/watch?v=aTWCN2uFhPE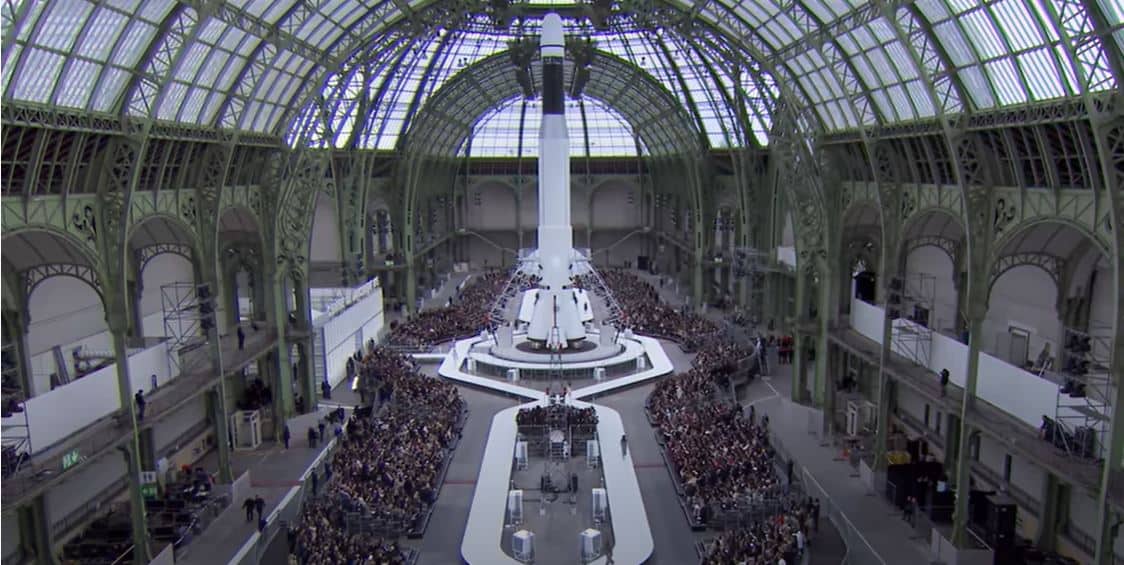 20:50
To help offset a portion of the waste associated with set production, creative agency Prodject has invested in more environmentally friendly lighting systems and created a rental system to help discourage one-time-use purchases (Williams, 2021).  In past, they have helped to produce shows for Gucci, Prada, and Tom Ford.
Environmental Impact and Sustainability
With more awareness of the impacts of climate change, the environmental footprint of fashion week is a growing concern.  Aside from the production of shows, CO2 emissions from travel, accommodations and digital streaming also add up.  Considering all factors, it is estimated that approximately 241,000 tons of CO2 emissions are generated annually across all 4 major fashion weeks (Rickman, 2021). 
Data-mining commonly used words on social media over the last pre-pandemic fashion shows indicate increasing concerns over "sustainability" and "ethical fashion" (Choi et al., 2021).  In 2019, Stockholm canceled their fashion week indefinitely to seek more sustainable alternatives (Bang, 2019).  Some designers are opting to break away from the fashion week calendar, and slowing down production.  In 2020 Saint Laurent's creative director Anthony Vaccarello stated "there is no good reason to follow a calendar developed years ago when everything was completely different. I don't want to rush a collection just because there is a deadline. This season, I want to present a collection when I am ready to show it" (Rickman, 2021).
Fashion Week continues to be an avenue to draw inspiration, build connections and express creativity.  The annual economic benefit of these events ranges from $1.36 billion/year at Paris Fashion Week to $57 million/year at Milan Fashion Week.  Over the past few years, we've seen Fashion Week evolve with more livestreamed shows and artistic presentations with clothing almost serving as a backdrop to enhance the performance.  Louis Vuitton's Men's Fall/Winter 2021 show has over 2.3 million views as of the writing of this article: https://www.youtube.com/watch?v=vV_QoQD_nrA 
The big four Fashion Weeks still remain largely inaccessible to emerging talent without sponsorship.  More shows are embracing diversity and continue to grow in scale and grandeur.  However, we face an urgent call to pay attention to carbon emissions.  In 2019, the UN stated we had 11 years left to "prevent irreversible damage from climate change" (United Nations, 2019).  The Intergovernmental Panel on Climate Change (IPCC) paints an even more grim picture in their 2021 report stating "we have zero years left to avoid dangerous climate change, because it's here," (Fritz & Ramirez, 2021).
In 2021 we witnessed climate catastrophes from heatwaves to droughts, flooding, wildfires and hurricanes.  We've all been impacted to some degree whether through rising food prices or increased cost of living.  What should the fashion community's response be?  Do we still need dedicated fashion weeks?  Do the pros outweigh the cons?  Do we opt for a different format?  If so, what could that look like?  And how do we offset carbon emissions from a changed venue?  Share your ideas on how you think Fashion Week should change.
References:
Adamson, T. (Jan 21, 2022). Dior reconstructs Paris in spectacular fashion week show. ET Canada. Retrieved on Feb 1, 2022 from https://etcanada.com/news/859887/dior-reconstructs-paris-in-spectacular-fashion-week-show/
Adegeest, D. (Feb 16, 2022). New York Fashion Week designers are embracing the metaverse. FashionUnited. Retrieved on Feb 17, 2022 from https://fashionunited.ca/news/fashion/new-york-fashion-week-designers-are-embracing-the-metaverse/2022021622600
Bang, M. (Sept 6, 2019). History of Fashion Week: From Couture Shows to Digital Showrooms. Retrieved on Feb 1, 2022 from https://thehula.com/blog/the-history-of-fashion-week/
Blanchard, T. (Feb 15, 2018). The view from the front: a history of the fashion show – photo essay. The Guardian. Retrieved on Feb 1, 2022 from https://www.theguardian.com/fashion/2018/feb/15/the-view-from-the-front-row-a-history-of-the-fashion-show-photo-essay
Butler-Young, S. (Sept 16, 2021). At Fashion Week Signs of Stalled Progress on Diversity. Business of Fashion. Retrieved on Feb 1, 2022 from https://www.businessoffashion.com/articles/fashion-week/at-fashion-week-signs-of-stalled-progress-on-diversity/
CFDA (Feb 10, 2016). NYFW Memo from the CFDA. Retrieved on Feb 1, 2022 from https://cfda.com/news/nyfw-memo-from-the-cfda
Choi, Y.H., Lee, K.H., Lee, S.Y., Xuan, B., & Yoon, S. (Sept. 15, 2021). Fashion Informatics of the Big 4 Fashion Weeks Using Topic Modeling and Sentiment Analysis. Retrieved on Feb 1, 2022 from https://link.springer.com/article/10.1186/s40691-021-00265-6
Cichowski, H. (Sept 30, 2021). Report: Diversity rebounds across the board at New York Fashion Week Spring 2022. theFashionSpot. Retrieved on Feb 15, 2022 from https://www.thefashionspot.com/runway-news/865862-diversity-report-new-york-fashion-week-spring-2022/
Emery, D. (Feb 2, 2022). The NFL is bringing the benefits of the Super Bowl LVI back to the local community. SBNation. Retrieved on Feb 15, 2022 from https://www.sbnation.com/nfl/2022/2/2/22913510/super-bowl-2022-nfl-benefits-local-community
Evanson, T. (Sept 6, 2019). 1900 Evening Coat – 1888 Evening Cape. Retrieved on Feb 20, 2022 from shorturl.at/mMWX7
FashionWeekOnline (n.d.). History of Fashion Week. Retrieved on Feb 1, 2022 from https://fashionweekonline.com/history-of-fashion-week
FHCM (n.d.) Fashion Forward – Data Sharing Platform. Retrieved on Feb 1, 2022 from https://fhcm.paris/en/the-federation/fashion-forward-eng/
France24 (Jan 17, 2022). Paris Fashion Week gets back on the catwalk after almost two years online. Retrieved on Feb 15, 2022 from https://www.france24.com/en/europe/20220117-paris-fashion-week-gets-back-on-the-catwalk-after-almost-two-years-online
Frtiz, A. & Ramirez R. (Aug 9, 2021). Earth is warming faster than previously thought, scientists say, and the window is closing to avoid catastrophic outcomes. CNN. Retrieved on Feb 16, 2022 from https://www.cnn.com/2021/08/09/world/global-climate-change-report-un-ipcc/index.html
GoToVan (Mar 24, 2014). Vancouver Fashion Week – Mar 2014_2. Retrieved on Feb 20, 2022 from shorturl.at/wK136
Harris, T. (Sept 8, 2016). Remembering 9/11. CFDA. Retrieved on Feb 1, 2022 from https://cfda.com/news/remembering-911
Hendriksz, V. (Sept 20, 2016). Key Numbers – How much money Milan Fashion Week makes. FashionUnited. Retrieved on Feb 1, 2022 from https://fashionunited.uk/news/business/key-numbers-how-much-money-milan-fashion-week-makes/2016092021839
Hendriksz, V. (Sept 15, 2016). This is how much money London Fashion Week generates. FashionUnited. Retrieved on Feb 1, 2022 from https://fashionunited.uk/news/business/this-is-how-much-money-london-fashion-week-generates/2016091521783
Indiamos (Jan 22, 1900). A Daily Hint of Paris – Beige Cloth Costume. Retrieved on Feb 20, 2022 from shorturl.at/zMNP7
Indiamos (Jan 22, 1900). A Daily Hint of Paris – Blue Cloth Costume. Retrieved on Feb 20, 2022 from shorturl.at/pFTZ8
Indiamos (Jan 22, 1900). A Daily Hint of Paris – Empire Mantle. Retrieved on Feb 20, 2022 from shorturl.at/mtBG5
Indiamos (Jan 22, 1900). A Daily Hint of Paris – House Dress, Princess Style. Retrieved on Feb 20, 2022 from shorturl.at/nwxT2
Indiamos (Jan 22, 1900). A Daily Hint of Paris – Liberty Satin Dress. Retrieved on Feb 20, 2022 from shorturl.at/kpIT0
Indiamos (Jan 22, 1900). A Daily Hint of Paris – Pretty Velvet Costume. Retrieved on Feb 20, 2022 from shorturl.at/bjwDO
IQRemix (Sept 22, 2014). Western Canada Fashion Week – Fall 2014. Retrieved on Feb 20, 2022 from shorturl.at/gyDIL
Krug, K. (Nov 5, 2007). China Fashion Week 2007 – Beijing. Retrieved on Feb 20, 2022 from shorturl.at/bQV38
Li, M. (Sept. 28, 2021). Facts You Didn't Know About Paris Fashion Week. Retrieved on Feb 1, 2022 from https://www.crfashionbook.com/fashion/g34162146/paris-fashion-week-facts/
Malget, F. (Feb 14, 2022). Digital Fashion Week New York concludes. FashionUnited. Retrieved on Feb 16, 2022 from https://fashionunited.uk/news/fashion/digital-fashion-week-new-york-concludes/2022021461323
Mau, D. (Apr 11, 2014). How much it costs to show at New York Fashion Week. Fashionista. Retrieved on Feb 1, 2022 from https://fashionista.com/2014/02/new-york-fashion-week-cost
Palumbo, J. (Feb 15, 2022). New York Fashion Week show staged with 7-foot-tall holographic models. CNN. Retrieved on Feb 16, 2022 from https://www.cnn.com/style/article/maisie-wilen-fall-2022-nyfw-holograms/index.html
Rickman, C. (July 6, 2021). The History of Fashion Week (and Why it Should Change). Frenchly. Retrieved on Feb 1, 2021 from https://frenchly.us/the-history-of-fashion-week-and-why-it-should-change/
Sacheverelle. (May 31, 2004). 1900 Dress with Lace Inserts. Retrieved on Feb 20, 2022 from shorturl.at/rFKX4
Secretaria Especial da Cultura do Ministerio da Cidadania (Mar 31, 2014). Sao Paulo Fashion Week – Verao 2015. Retrieved on Feb 20, 2022 from shorturl.at/dfCV9
Stanton, A. (n. d.). Fashion Week's Bold History – and Uncertain Future. Retrieved on Feb 15, 2022 from https://www.thegoodtrade.com/features/fashion-week-history
United Nations (Mar 28, 2019). Only 11 Years Left to Prevent Irreversible Damage from Climate Change, Speakers Warn during General Assembly High-Level Meeting. Retrieved on Feb 16, 2022 from https://www.un.org/press/en/2019/ga12131.doc.htm
Vadon, M. (Feb 9, 2014). Mercedes Benz Fashion Week. Retrieved on Feb 20, 2022 from shorturl.at/kyEW0
Williams, J. (Sept 27, 2021). The history of fashion week. Reader's Digest. Retrieved on Feb 1, 2022 from https://www.readersdigest.co.uk/lifestyle/fashion-beauty/the-history-of-fashion-week